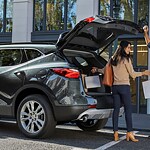 If you are looking for an SUV that can keep up with your busy lifestyle, the Chevrolet Blazer is available at Ben Bissett Chevrolet in Mercer, PA. The technology features that come with the Blazer will help you stay focused, safe, and connected to your contacts while you drive!
If you have work to do or need to stay easily connected to your friends and family while you drive, the Android Auto and Apple CarPlay integration with the Chevrolet Blazer can make sure you are just a phone call or text away. As you stay connected, you will also have the ability to stay alert and focus on the road!
Driving in an unfamiliar area can be frustrating, but the Chevrolet Blazer offers connected navigation so you can have up to date information on the road ahead. The connected navigation also responds to voice commands so you don't ever have to lose focus!