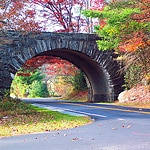 At Ben Bissett Chevrolet, Inc. in Mercer, PA, we love to celebrate fall. So if you are planning a leaf-peeping road trip this fall, consider these tips from our dealership so that you are well-prepared for the journey.
Start your road trip while prepared. Bring your vehicle to our dealership to have it quickly checked to ensure that it is ready to make the trip. Also, pack an emergency kit just in case you need to wait for roadside assistance. Include things in your emergency roadside kit, such as blankets, books, and flashlights.
Also, some great tips for your fall road trip or to make sure you plan many stops so that you can get the pictures you want. You should also take in some local culture by stopping for a fall harvest or local foods. Make sure you have a few ways to charge your phone or extra batteries for your camera too!